Village ensures sustainability for its people

An ambiguous village in the foothills of Melghat region of Amravati district in Maharashtra, Payvihir has set an example for the rest of the country by consistently showing the communities and NGOs how to work together for conserving the environment and ensuring sustainable livelihood for its people.

In the year 2014, Payvihir won the Biodiversity Award from the United Nation's Development Programme (UNDP) for turning an unusable land of 182 hectare under community forest right (CFR), into a forest. Again in 2015, the village was honored with the Maharashtra Wildlife Service Award presented by Sanctuary Asia in recognition of its invaluable contribution to environmental conservation in the state. Recently the village has also come up with an incredible idea of selling organic sitafals (Custard Apple) in the city of Mumbai under their brand name of "Naturals Melghat."

Encouraged by NGO Khoj, the gram panchayat of Payvihir decided to devote its energies to regenerate and revive the forest biodiversity of the area. Villagers undertook soil and water conservation works, plantations, and protection from forest fires and grazing. They also ensured a mix of natural regeneration and afforestation. Problems like unemployment and migration were tackled by providing village development jobs to the locals under Mahatma Gandhi National Rural Employment Guarantee Act (MNREGA). All the works were carried out as per the micro plan prepared by Khoj. By 2015, a flourishing forest stood in place of the 182 hectares of degraded land that the village was handed as part of their Community Forest Rights. This attracted herbivores like deer, wild boars, and sambars to the area. Bird nests, which were never seen earlier, also came up in the forests. Today, there are also carnivores like jackals and hyenas in the habitat, which is protected day and night by the villagers.

Afforestation and regeneration of lost flora and fauna also led to better livelihoods, and improved governance of the village. All of this was taken into consideration by the UNDP when they decided to bestow their Biodiversity Award on Payvihir. The award carried a cash prize of Rs 1 lakh and a citation. Along with this money, the village used funds from the tribal welfare department to set up a biogas plant that supplies biogas for three hours a day. The villagers sell cow dung to the plant at the rate of 75 paise per kg and also buy gas from the plant by paying Rs 200 per month.

Next, Payvihir installed a solar drip irrigation system on forest land, becoming the first village to do so. Soon after, the villagers planted medicinal plants on 4 hectares of the land. To increase tree diversity, the villagers have started organic plantations of bamboo, sitaphal, hirda, behada, mahua, mango, neem, custard apple, amla, jamun, teak and Arjuna trees.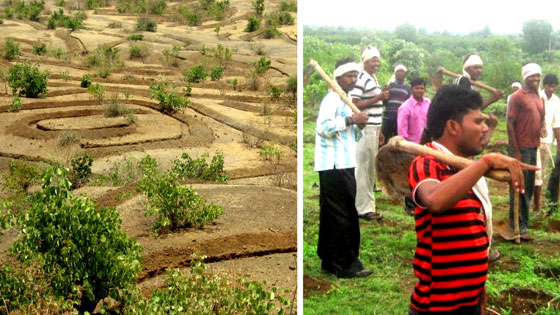 Source :https://www.thebetterindia.com/84503/payvihir-maharashtra-khoj-forest-conservation-organic-sitaphal/