Printable tags turn everyday objects into smart, connected devices

Engineers have developed printable metal tags that could be attached to everyday objects and turn them into "smart" Internet of Things devices. The metal tags are made from patterns of copper foil printed onto thin, flexible, paper-like substrates and are made to reflect Wi-Fi signals. The tags work essentially like "mirrors" that reflect radio signals from a WiFi router. When a user's finger touches these mirrors, it disturbs the reflected Wi-Fi signals in such a way that can be remotely sensed by a Wi-Fi receiver, like a Smartphone. The tags can be tacked onto plain objects that people touch and interact with every day, like water bottles, walls or doors. These plain objects then essentially become smart, connected devices that can signal a WiFi device whenever a user interacts with them. The tags can also be fashioned into thin keypads or smart home control panels that can be used to remotely operate WiFi-connected speakers, smart lights and other Internet of Things appliances.

Our vision is to expand the Internet of Things to go beyond just connecting smart phones, smart watches and other high-end devices," said senior author Xinyu Zhang, a professor of electrical and computer engineering at the UC San Diego Jacobs School of Engineering and member of the Center for Wireless Communications at UC San Diego. Zhang's team named the technology "LiveTag." These metal tags are designed to only reflect specific signals within in the WiFi frequency range. By changing the type of material they're made of and the pattern in which they're printed, the researchers can redesign the tags to reflect Bluetooth, LTE or cellular signals.

The tags have no batteries, silicon chips, or any discrete electronic components, so they require hardly any maintenance no batteries to change, no circuits to fix. As a proof of concept, the researchers used LiveTag to create a paper-thin music player controller complete with a play/pause button, next track button and sliding bar for tuning volume. The buttons and sliding bar each consists of at least one metal tag so touching any of them sends signals to a WiFi device. The researchers have so far only tested the LiveTag music player controller to remotely trigger a WiFi receiver, but they envision that it would be able to remotely control WiFi-connected music players or speakers when attached to a wall, couch armrest, clothes, or other ordinary surface.

The researchers also adapted LiveTag as a hydration monitor. They attached it to a plastic water bottle and showed that it could be used to track a user's water intake by monitoring the water level in the bottle. The water inside affects the tag's response in the same way a finger touch would as long as the bottle is not made of metal, which would block the signal. The tag has multiple resonators that each gets detuned at a specific water level.
The researchers imagine that the tag could be used to deliver reminders to a user's Smartphone to prevent dehydration. On a broader scope, Zhang envisions using LiveTag technology to track human interaction with everyday objects. For example, LiveTag could potentially be used as an inexpensive way to assess the recovery of patients who have suffered from stroke. Another example is tagging products at retail stores and assessing customer interest based on which products they touch. Rather than use cameras, stores could use LiveTag as an alternative that offers customers more privacy, said Zhang.
Source: : https://www.sciencedaily.com/releases/2018/08/180816091442.htm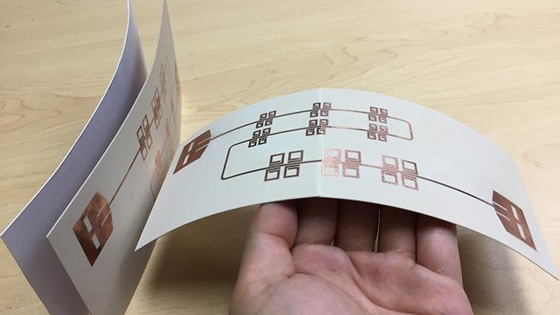 Source : https://www.sciencedaily.com/releases/2018/08/180816091442.htm
Source : https://www.youtube.com/watch?v=JEfy7IhS3EE